Imagine you Received this Personalised Video!
Think back to your last hotel booking. Was it a business trip or a family holiday? So did the communications inspire you, or were they mere pages of dull, uninspiring text delivering the raw data? I'll bet the limit of personalisation consisted of 'Dear <<FirstName>>' and nothing else. Anticipation: ZERO.
Wait! How much did you just spend? Did you feel valued? Did you share your itinerary with friends or colleagues? Certainly not. It doesn't have to be like this. So watch this 24 second video and imagine how you might have felt!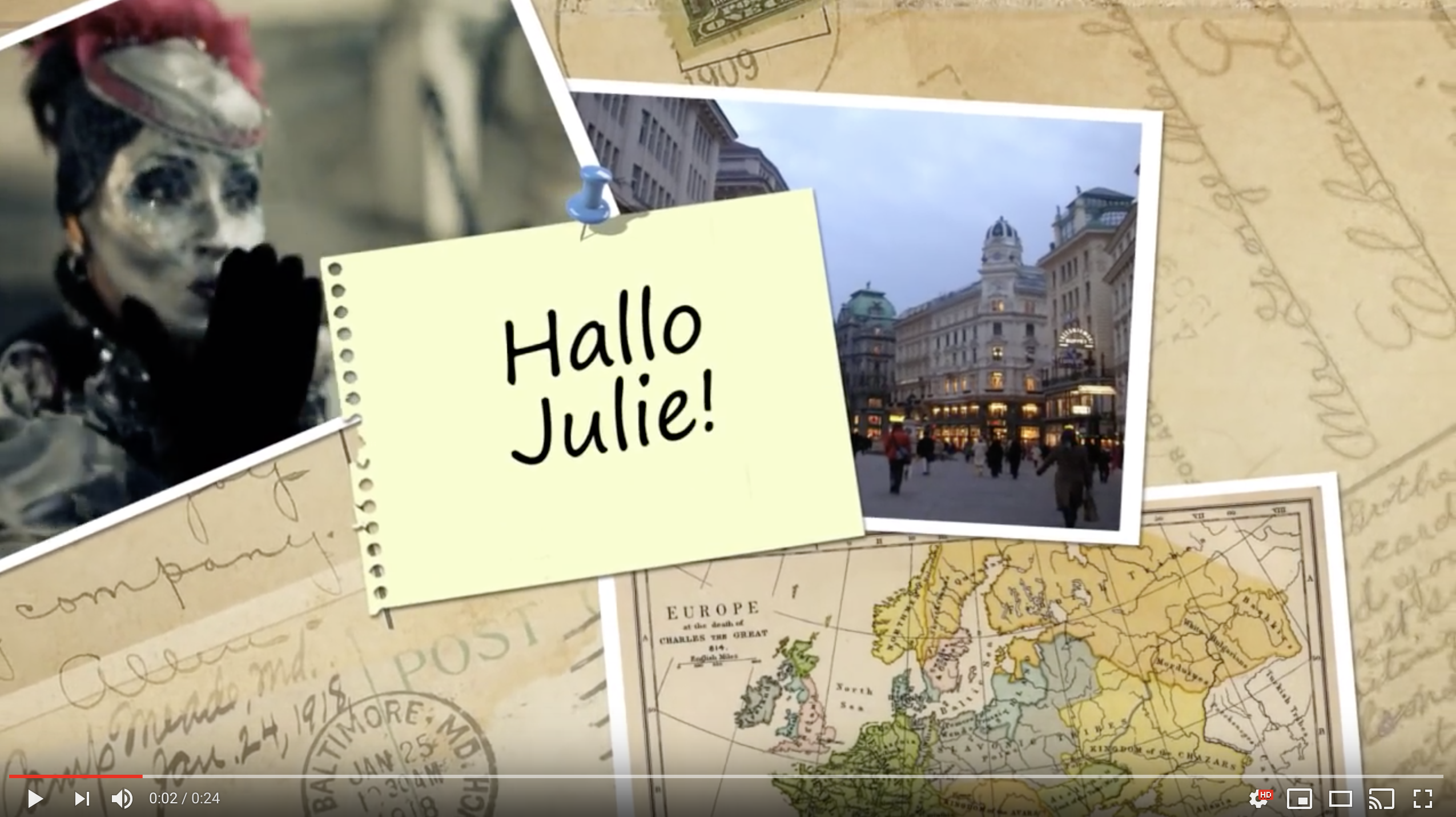 This is personalised marketing at its finest. Now imagine if the printed brochure had such touches too, fully integrated and consistent with the video, all emails, and your web-based experience! That's powerful marketing. That's style – and it's the secret to building a brand and capturing new customers.
This article seeks to explain why every business must invest in personalised marketing communications across print and digital media. It introduces you to the single most powerful software platform available, and one which is accessible to almost any size of business, from the small to mid-sized firm, all the way through to Amazon (yes, they use it too).
Introduction to Personalised Marketing Technology
There are few elements of business undergoing more profound change than that of marketing. The global economy, digital media, regulations such as the GDPR and the PECR, have created a perfect storm to create marketing chaos: how can you attract and convert customers if the traditional methods are being throttled at every turn? Consider how the use of Cookies is being choked with the legally required defaults demanding that personalisation is defaulted to 'off'! How then can the marketer measure the effectiveness of their work, or re-target the highest quality prospects
Consider the August 2019 report from the UK Office of National Statistics which highlights how the percentage of internet sales will exceed 20% in the second half of 2019.
The solution lies in hyper-personalised marketing communications. Such personalised – or individualised – communications target the recipient with the right content as a result of data collection, analysis, and the application of automation technology.
This article is aimed at the marketing professional, whether small business, large corporate or agency, who has heard of omni-channel communications and perhaps has little idea why it's so important or, even more importantly, how to embark on this journey. After all, isn't such technology reserved for the corporate giants such as Amazon, Apple, Argos and such like?
Before we explore solutions, just consider the following detailed statistics from Statista:
'B2B e-commerce sales via a website amounted to 133.6 billion British pounds in 2017. E-commerce accounted for a 16.5 percent share of total business turnover in the United Kingdom in 2017. By 2021, roughly 93 percent of UK internet users are expected to do online shopping, the highest online shopping penetration rate in Europe.'
Scary. So how will your organisation compete if you hope to convert your clients based on more than mere chance alone?
The Personalised Customer Journey
There are multiple communication channels such as print, website, social media, direct messaging through email and text messages, and others too. Our objectives are to enrich the customer experience – the journey – by embracing two specific objectives:
Communicate personalised messages synchronised across all channels
Approach prospective customers when they're at their most receptive
Fundamentally, our goal is to create and automate the ordering, production, delivery and tracking of personalised customer journeys and relevant media. This can be achieved only through the use of software which merges cross-media, variable data one-to-one marketing. For this we demand the same tools and strategies as the major brands, because without campaign automation we are doomed to failure.
Data, Logic, and Design
A modular approach is essential, so that either data (the who), logic (the why and how), or design (simple, complex, with or without a CTA etc?) can be changed or replaced without forcing a change in the other two. With multiple touch points, it's clear that the data and logic will be shared, and the workflow must combine these elements at the moment of output (production).

It must be stressed that the design of the communication will be media specific, so this requires that logic and data must be able to be shared across all channels even when a common design is not desired.
Why Print Remains Critical to the Marketing Equation
As neuroscience researchers at Temple University found, paper advertisements held the reader's engagement for much longer than digital media. Apart from the sensory 'pleasure' of touch, by removing the reader from their digital world, the opportunity for increased brand-engagement becomes very real.
As Henry Kurkowski of One WiFi puts it, 'Print ads don't have to just sit there and look pretty anymore. By using a combination of QR codes and customised mobile phone apps, a print ad can create interactivity between the brand and the consumer. Merging the real world to the digital world is an enhanced brand experience that most people will find memorable and will want to share.'
The change afoot is this: high quality, visually desirable printed materials may be saved for many days, weeks or even years. This contrasts with digital media where once consumed it might, at best, be 'bookmarked' in a web browser, or consigned to a 'digital dustbin' (such as the email saved to a folder never to be revisited).
For the marketing professional, a consistent approach to print and digital communications is essential, and as we work on our communication, we want to allow our customers and brands to experience a coordinated and powerful messaging across both our physical and digital channels.
XMpie
The global leader in this field is XMPie who operate across any market, any sector, and any campaign. Take a close look at the complete XMPie software range here.
XMPie was founded in 2000 by veterans and visionaries of Scitex and EFI who, prior to starting XMPie, made major contributions to the innovative analog and digital printing solutions those companies created. Today as a growing software business unit of Xerox® Corporation, XMPie has taken another major step to integrate the world of publishing and marketing, providing more value-services to print providers and better measurement and ROI reporting capabilities to marketing executives.
Download the complete XMPie brochure here!
Being the next generation, the technology has moved from CCM to its purpose of delivering Individualised Customer Communications Management (ICCM), as presented in the graphic below.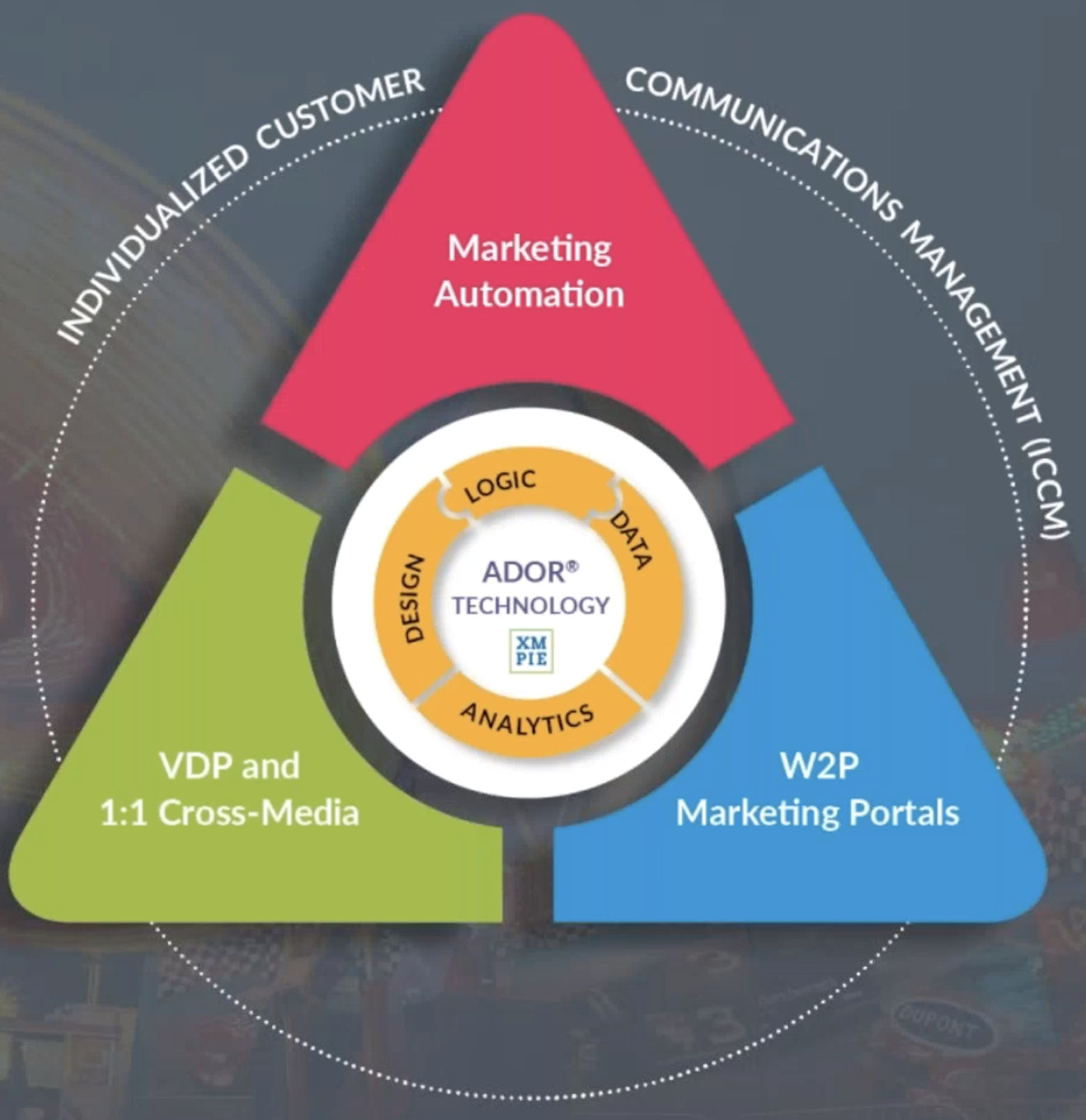 ICCM itself relies upon the design, data and logic concepts introduced above, and the whole solution upon the newly enhanced toolkit, which may be best appreciate by considering its three cornerstones:
VDP and Cross Media
VDP – Variable Data Printing – combines with cross-media support via a set of tools to deliver media personalisation, both physical as well as digital. When we talk of print personalisation, we're focussing on the tools we've been integrating into our workflows such as Adobe InDesign, Illustrator for print production, PhotoShop for Image print production, and DreamWeaver too, which is just one of the tools for web personalisation.
Web to Print
This is really focussed not just on web-to-print, but really on business process and automation. A successful e-commerce offering requires a fully-fledged platform capable of serving small, medium, and enterprise customer in both B2B and B2C environments. An essential component is that this is not just with print, but with print, digital or multi-channel campaigns.
Marketing Automation
Thirdly, there are the marketing automation offerings: entire campaigns may be created and collaborated on before delivering and reporting upon the results. Such automation campaigns allow campaign automation to be based upon intelligent rules and filters, such that entire customer journeys may be orchestrated, and further integrated into other campaigns and platforms through open integration.
XMPie is an Open Technology Platform
Central to appreciating the approach of XMPie is the recognition of it being an open-technology platform which may be used in a myriad of ways. The XMPie tools can operate as independent parts too: delivering a personalised print piece, for example, or an online marketing store. Or they can be joined together to deliver a totally integrated approach. For example, a personalised e-commerce store for consistent delivery of deliverable print through to ordering an entire marketing campaign from your marketing agency. All online, and all in the hands of the consumer.
It's a powerful platform. It's just that – a platform – and every platform needs to be used and built upon. It's people who will create solutions out of the individual parts.
The question to be asked is 'how am I spending my marketing budget, and what am I getting back for it?'. Marketing has made a huge shift into the digital sector, and it's more important than ever that we understand our clients holistically, and that we know their entire digital footprint, where they're going, what they're interested in, their demographics, so any time you can join forces with a skilled technologist who can marry up that data to leverage its power. When a relationship is based around an organic conversation then amazing things can happen because people trust each other.
What can be Achieved?
XMPie was founded with a vision to integrate the world of print and digital media and make it easier for every business to create and produce personalised communications. The platform covers three main application areas – Media Personalisation, Web-to-Print Portals and Marketing Automation – all united through a common technology foundation.
With its open architecture and APIs, the user benefits from the greatest flexibility for integration with other internal systems or 3rd party applications, so you can create and integrate any solution imaginable.
Watch this short video to see some more examples: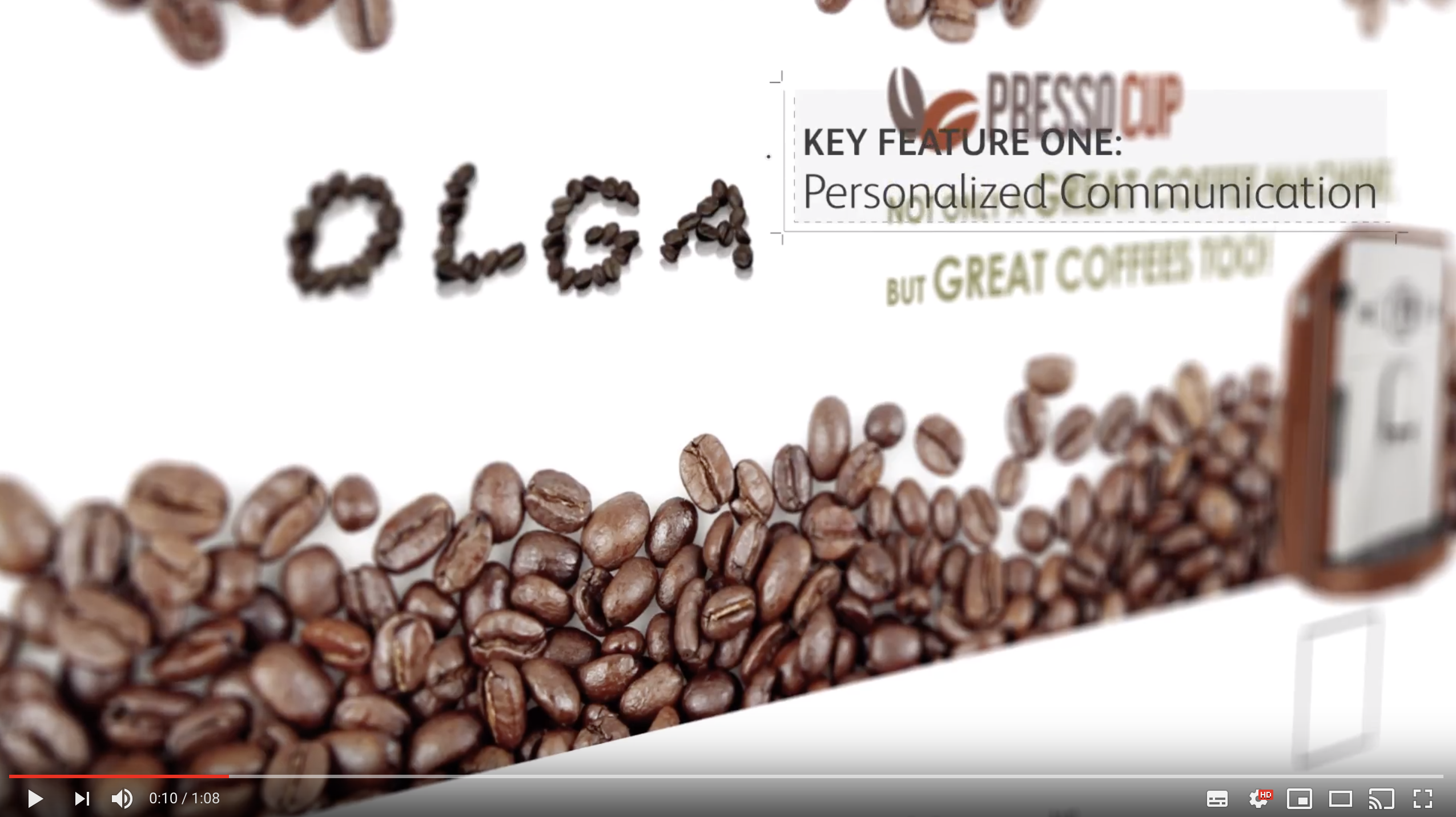 How Advanced-UK can Help
As one of the leading Xerox Platinum Partners in Europe, coupled with our 28-year history of delivering integrated solutions, Advanced-UK has a team of specialists fully qualified and experienced in the delivery of the XMPie solutions outlined in this article.
We'd love to have a chat and guide you through the possibilities!
Have you read:
⏱ 5 Second Summary
Marketing personalisation - true Customer Communications Management CCM - demands multi-channel technologies across print and all digital forms. XMPie has developed the leading solution, as used by small businesses and marketing agencies as well as by e-commerce giant
as Amazon.
Don't forget to read our Production Print page!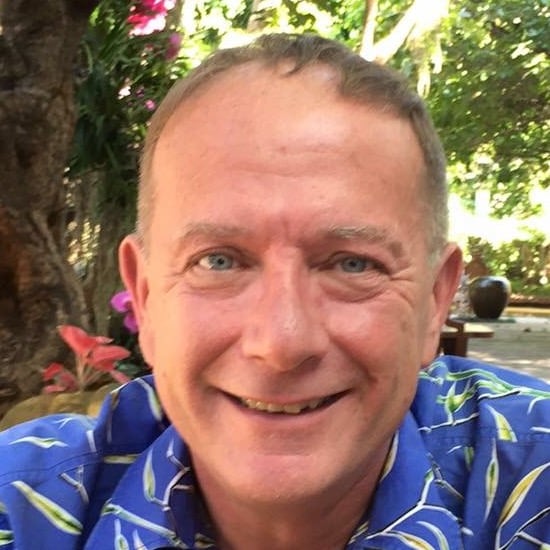 Humperdinck Jackman
Director of Consulting Services
Humperdinck has a 30-year career spanning Document Management Systems (DMS), data protection, Artificial Intelligence, Data Protection and Robotic Process Automation. With many articles published in print internationally, he believes the advances in office technology are such that we're entering the 4th Industrial Revolution. Now Director of Marketing and Consulting Services at Advanced UK, he's as active with clients as he is in endeavouring to write original blog articles.