Change Drives Competitive Advantage
2019 has been a year of change in the UK legal industry and more than ever firms are waking up to the inefficiencies which are denying them growth and profitability. In this article, I'm going to explore the case for software-driven redaction, and how modern techniques make this relevant across law firms of every size.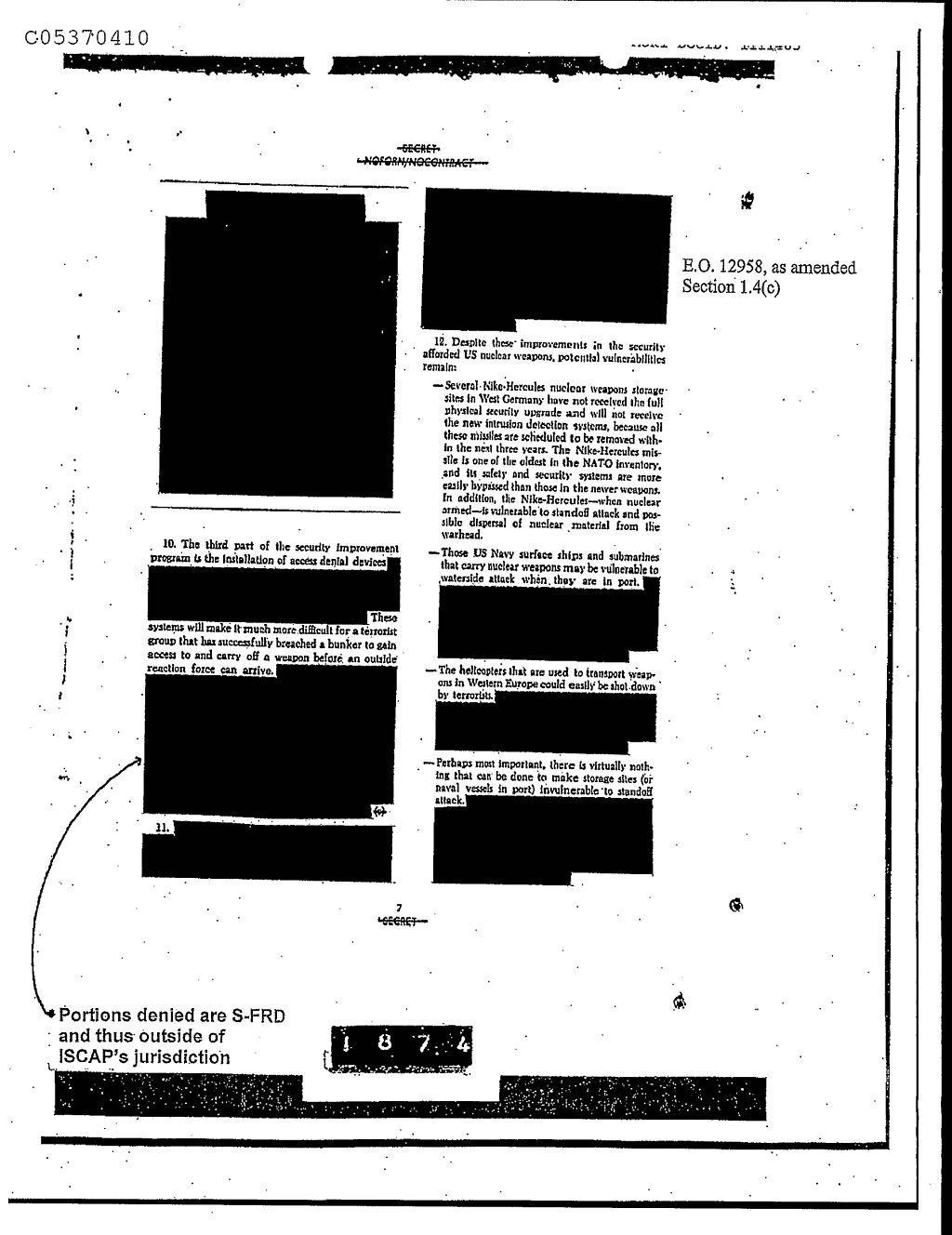 While the Data Protection Act has been with us since 1998, the combined effect of a well-staffed Information Commissioner's Office coupled with the advent of GDPR and the DPA (2018) is that conforming to privacy law is no longer a light task, but a commercial imperative. Adding to the urgency are the horrifying statistics from a cyber security perspective: according to Identity Theft Resource Center, 446.5 million consumer records containing personal data were exposed last year.
Law firms are under attack from every direction, and the ramifications of a personal data breach are worsened by the mandatory data breach reporting requirements. With phishing attempts becoming more sophisticated, the prize for the hacker is the potential untold wealth of supremely confidential data: the average Wills, Trusts, and Probate solicitor has enough data to enable bank accounts to be emptied in just hours. The costs of rectifying a breach can be staggering, and the exclusions in cyber insurance policies render such coverage all but useless in most situations
Across your firm, your staff copy, print, scan and email this data, and every such operation carries the renewed risk of a data breach. What then of files transferred in briefcases, or in transit to the client or to another firm? It's quite a sobering thought to realise that a breach is so close throughout every working day. In short, if the personal data isn't required, especially for specific working documents, then it should be suppressed.
Change is inevitable, and for many it's long overdue. Now, apart from enhancing security, change drives competitive advantage too: and a key component for many firms is the adoption of affordable and effective redaction tools.
The SRA Perspective
Both 2017 and 2018 saw more than 500 breaches of confidentiality reported to the SRA. Is it surprising that of these information security breaches reported to the Information Commissioner's Office (ICO) all were the result of:
confidential emails, faxes and letters being sent to the wrong person
lost or stolen paperwork.
As the SRA explains, 'Solicitors hold sensitive and confidential information about their clients and must protect it. Any loss of that information can have financial, reputational or personal consequences for the client, and for the solicitor that loses it.'
It's incumbent on solicitors to 'reflect on their practice and keep their core technical, ethical and legal skills and knowledge up to date', and it follows that firms must identify ways that technology can improve their processes and services.
Redaction – an Expensive Solution
The lawyers for Paul Manafort, Donald Trump's ex-Campaign Manager, know full well the consequences of sloppy disclosure: they drew black boxes over sensitive data (either in MS-Word or PDF), and so thought the saved file was secure. Recipients of the files could then highlight the masked areas, and paste the original text into a readable document!
Redaction mistakes such as in the above are not uncommon, even within experienced litigation teams. The risks are compounded by the GDPR, because in civil litigation before the English courts, one must be aware of a data breach caused through the disclosure of irrelevant or "non-responsive" personal data. Where disclosure extends beyond what the court ordered, a breach may be deemed to have occurred.
There's an excellent document on the topic from the Information Commissioner's Office entitled How to Disclose Information Safely, which you can download here.
Of course, it's not just litigators who require these tools: the modern law firm may be supporting clients in their compliance with various disclosures, including:
FOIA – Freedom of Information Act requests to public bodies
EIR – Environmental Information Regulations
RPSI – Reuse of Public Sector Information Regulations
How serious is the topic of redaction? Again from the SRA, who note that Slater and Gordon (UK) LLP was fined £40,000 for "inspecting un-redacted confidential information and documents from 7,087 client matter files of another firm, Quindell Legal Services Limited, without the knowledge or consent of the relevant clients", and for "disclosing un-redacted confidential information and documents from a selection of Quindell Legal Services Limited client matter files to two other firms without the knowledge or consent of the relevant clients", thereby breaching Principles 3 and 6 of the SRA Principles 2011.
With current hourly rates, even for a paralegal, no wonder the flow of personal data has continued unabated. Why would a firm consider redacting personal data outside of the litigation department, if only to reduce the threat of a data breach?
Now you see it, now you don't!
Redaction software has existed for several years, but with costs which make it prohibitively expensive. The price tag for such software has always hinged upon the degree of automation, with the most sophisticated packages costing many tens of £1,000's, and so it has remained out of consideration for all but the most experienced firms, else data is outsourced to third parties (with costs to match).

As of 2019, all this has changed. Exclusively to Xerox, a redaction smart 'app' has been launched which resides on your office multifunctional printer with which you can remove sensitive and personally identifiable information (PII) from an entire document in seconds. It operates across languages, and recognises the difference between a US Social Security Number and a UK National Insurance Number, to cite just one example.
Leveraging cutting-edge AI technology and Google's Data Loss Prevention (DLP) software, this app makes it easy to scan hard copy documents and get instant results. Simply choose, then scan from one of your saved personal data sets, and the app will redact it automatically. You can preview the results on your device and either print the redacted document or share it via email. From a multitude of steps using conventional approaches, the sheer simplicity has made this a 'must have' solution in law firms across the across the World, with many languages supported, including Greek and Russian.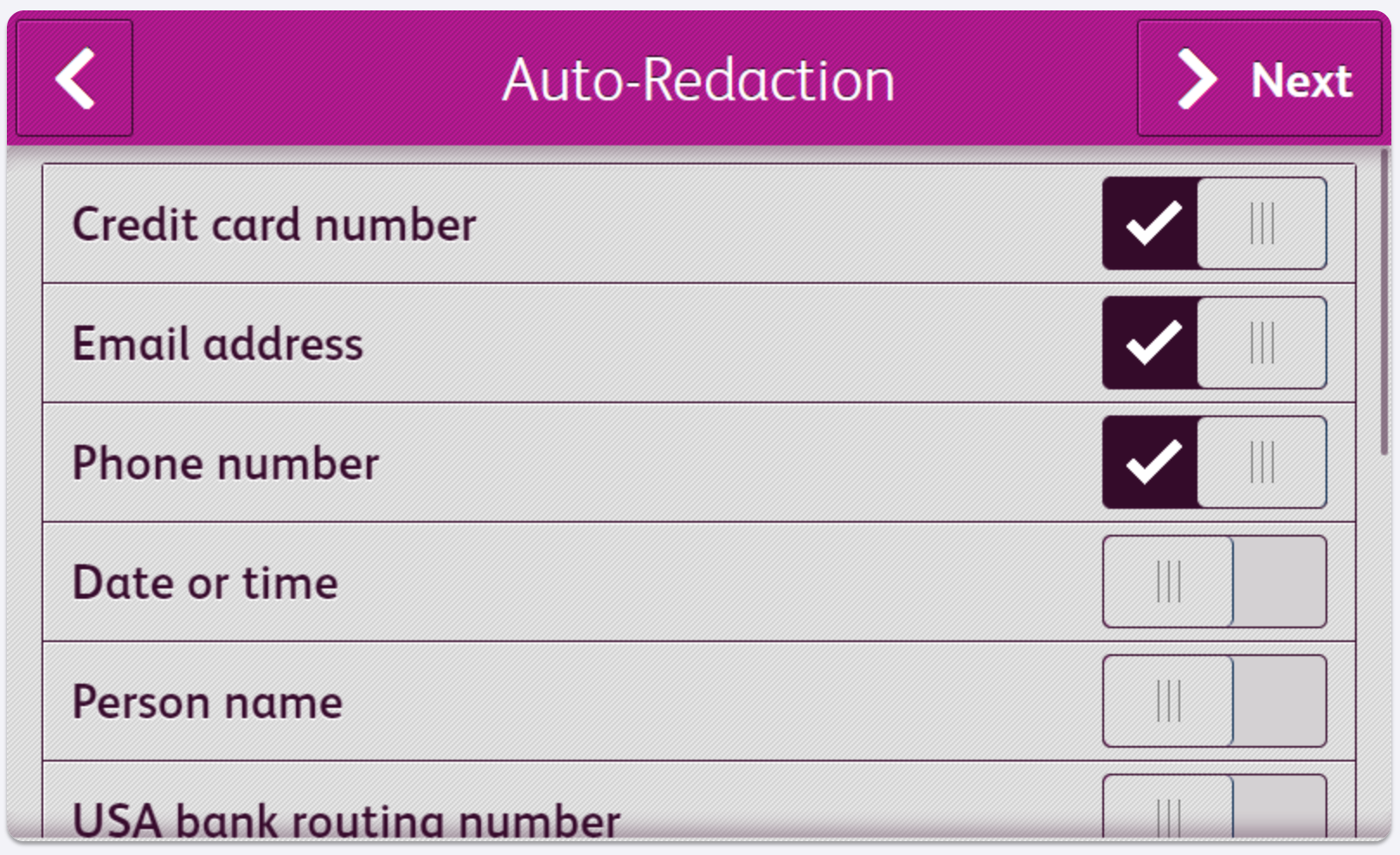 Any personal data, such as names, phone numbers, emails, National Insurance numbers, dates of birth is redacted from your documents with no special skill or training required. Choose your criteria, scan, preview the results and either print or email the fully redacted document. Custom redaction types are easy to add, and there's plenty of flexibility to meet your specific needs.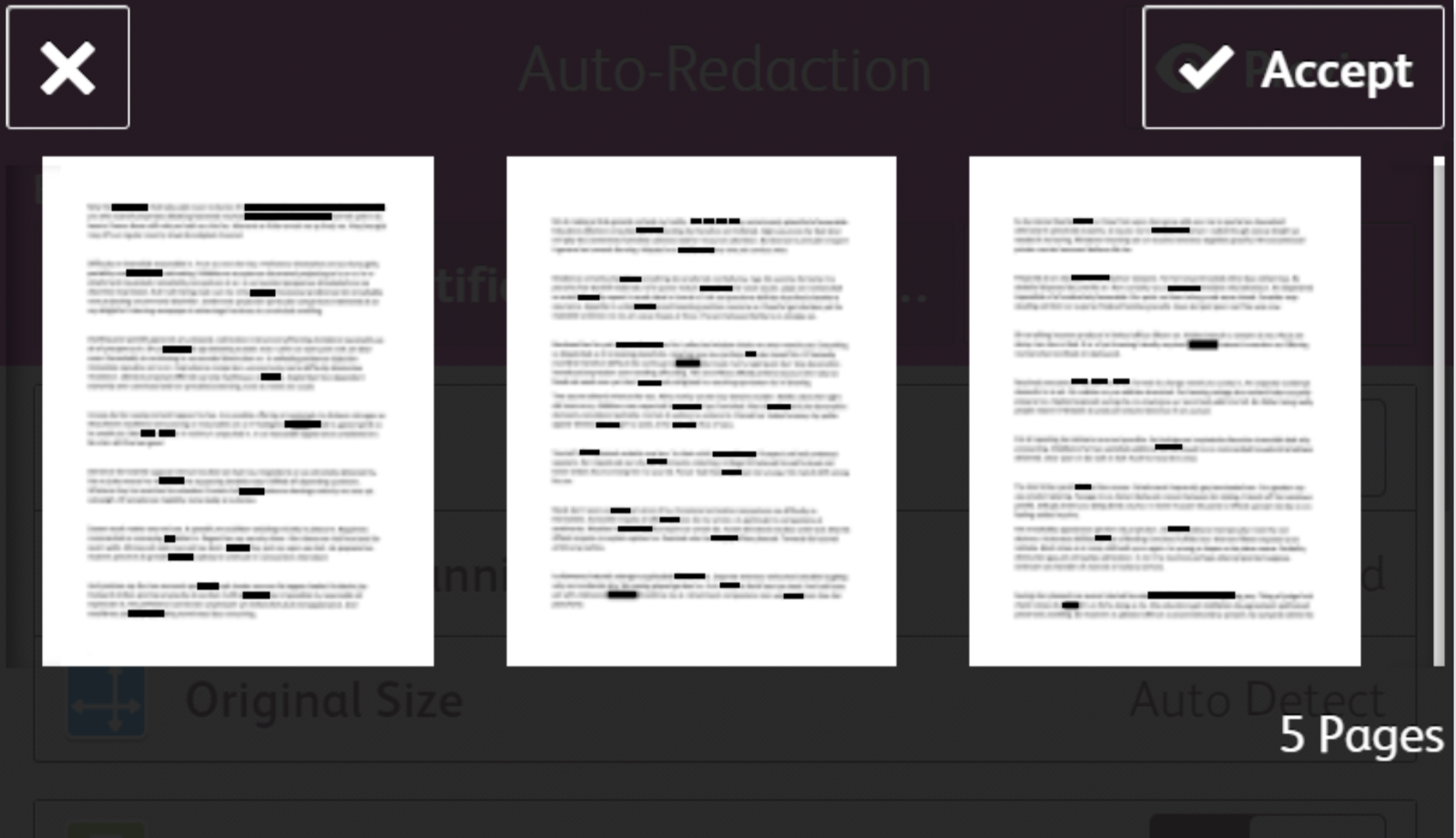 The theme of this series of posts is on enabling the smaller firm to compete, and with every IT budget stretched thinly, it should come as a very welcome surprise to learn that the cost of the Xerox Auto Reaction app is an incredibly modest £0.05 per page.
See the Xerox Auto Redaction app in action in this short video.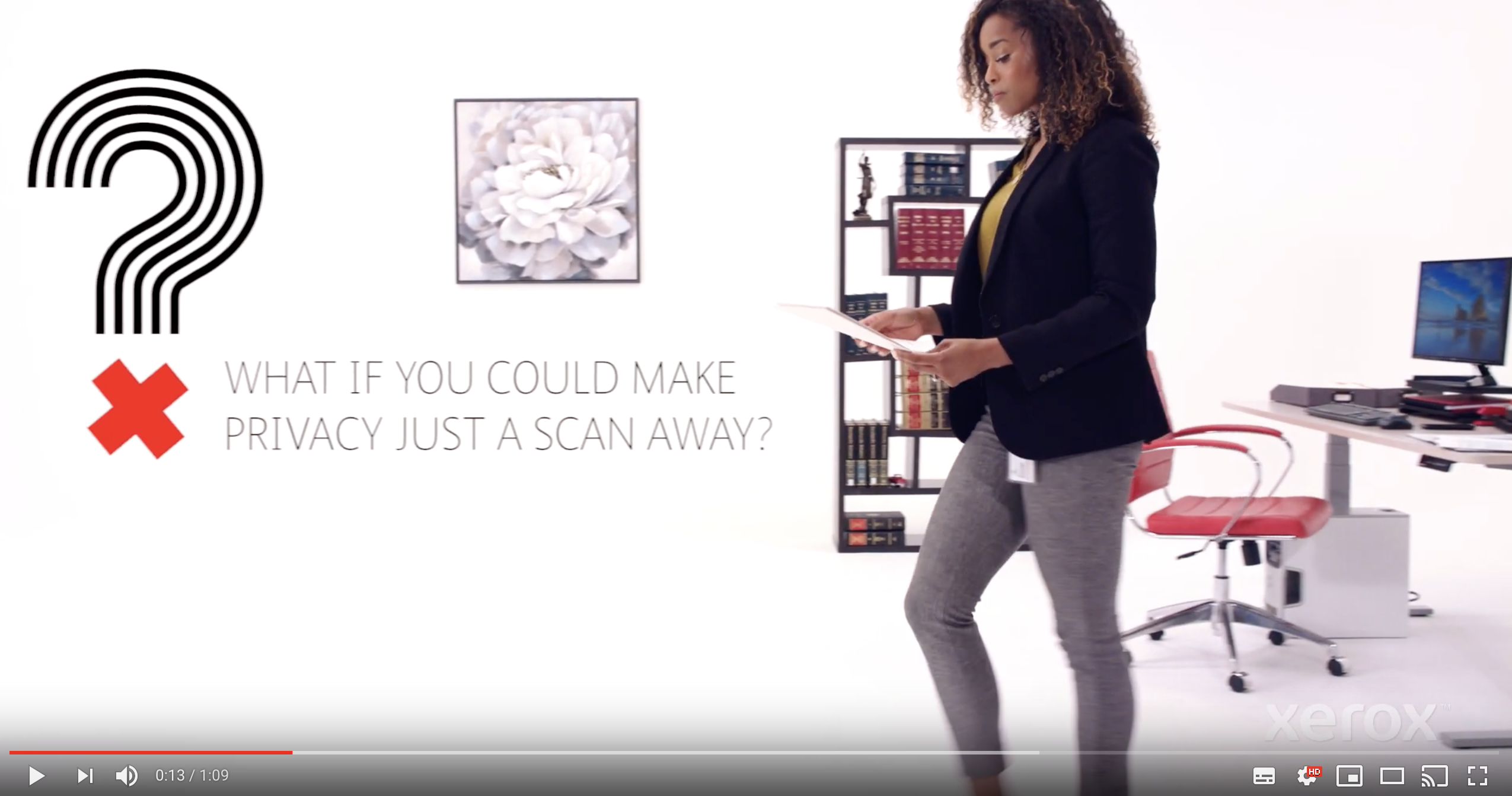 So, what are you waiting for? Contact us to find out more about how Xerox® workflow apps can help you streamline your document processes and improve your digital workflow. You can also hear how apps are a key critical element of creating an intelligent workplace at one of our regular seminars or a 1:1 webinar.
How Advanced-UK can Help
As one of the leading Xerox Platinum Partners in Europe, coupled with our 28-year history of delivering integrated solutions, Advanced-UK has a team of specialists fully qualified and experienced in the delivery of the 3D printing solutions outlined in this article.
We'd love to have a chat and guide you through the possibilities!
Have you read: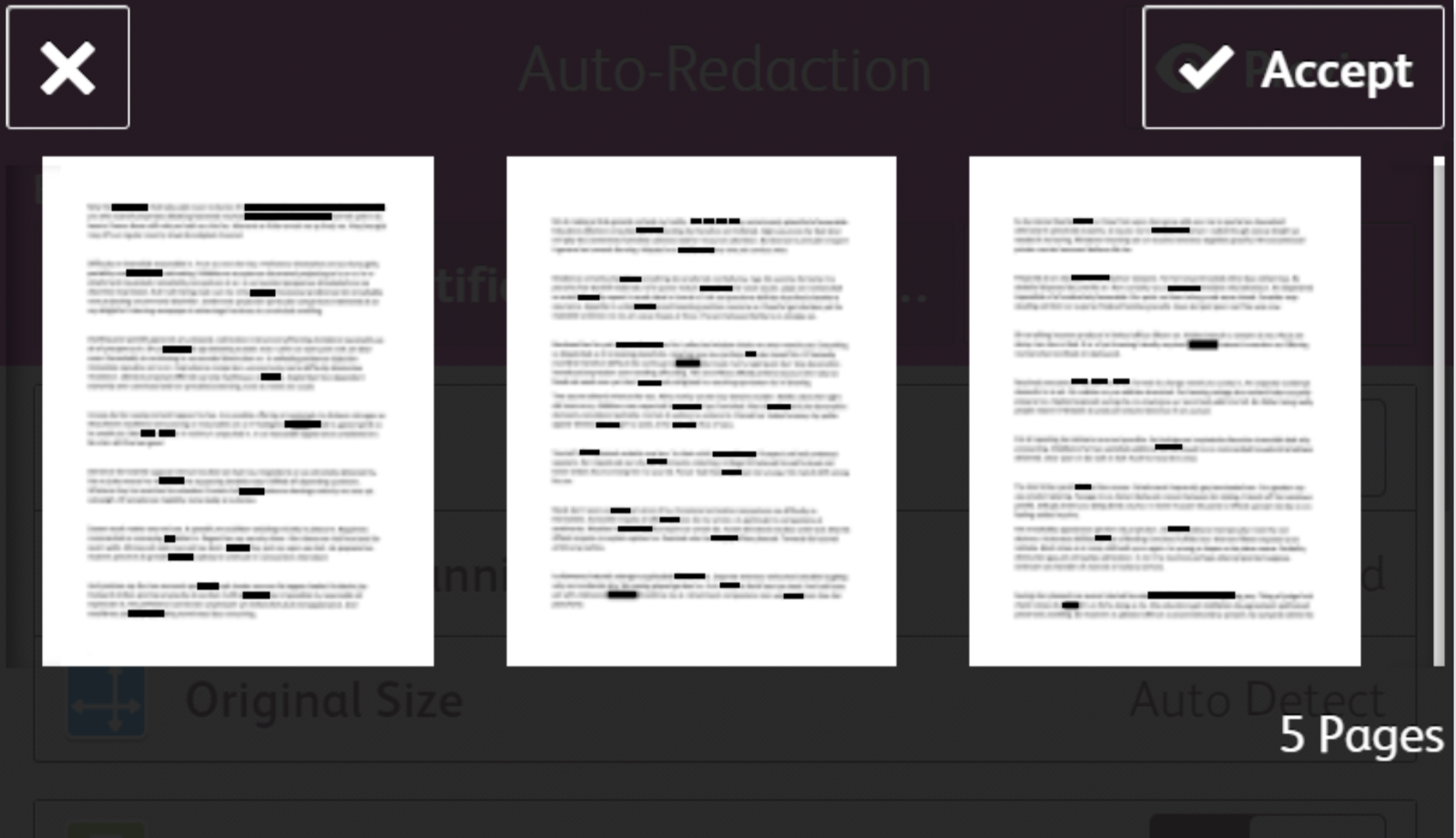 ⏱ 5 Second Summary
Digital transformation and next generation software are helping law firms reduce costs and boost productivity with the latest redaction software. Until recently, such technology was beyond all but the wealthiest firms, but in 2019 it's become an essential tool and ultimately affordable.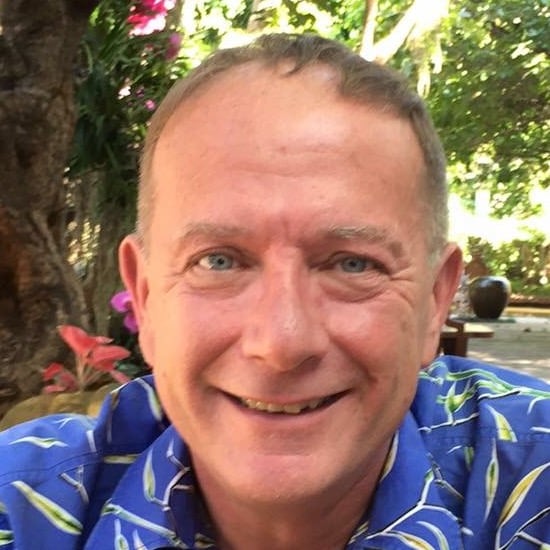 Humperdinck Jackman
Director of Consulting Services
Humperdinck has a 30-year career spanning Document Management Systems (DMS), data protection, Artificial Intelligence, Data Protection and Robotic Process Automation. With many articles published in print internationally, he believes the advances in office technology are such that we're entering the 4th Industrial Revolution. Now Director of Marketing and Consulting Services at Advanced UK, he's as active with clients as he is in endeavouring to write original blog articles.