A safer 'Return-to-Work' post COVID-19
LONDON - Monday 17th May 2020
The Health & Safety Executive (HSE) has offered some practical guidance about how to reopen workplaces safely, but according to the Advanced UK survey conducted this month, there's still much confusion. Management teams are simply overwhelmed.
Get a head start on your safer Return to Work plan by downloading our informative 2-page pamphlets to review and share with your colleagues.
For 30 years, Advanced UK have been helping businesses of all sizes across diverse industries become more resilient, and our core technical solutions represent the very best in business continuity. So here we introduce you to a selection of the most popular topics driving our client engagement this month.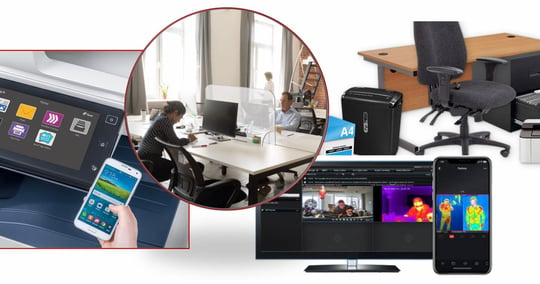 Desk 'Sneeze Screens'
In this helpful leaflet from the HSE, it's emphasised that creating a safer workplace means hot-desking is to be used as a last resort, and with modern open-plan offices where it is not possible to move workstations further apart, arranging people to work side by side or facing away from each other rather than face-to-face. Only where it is not possible to move workstations further apart, you must use screens to separate people from each other.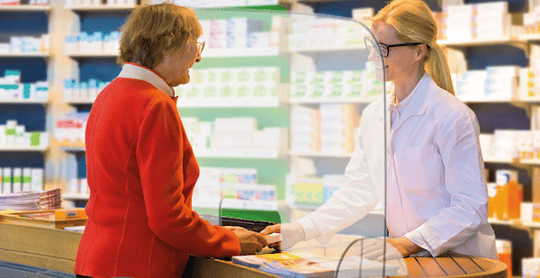 Within our office supplies and infrastructure provisions, we've had such screen solutions available, but only now are we seeing the interest. While a home made screen can work, for larger deployments across hundreds of desks, it's impractical. Across Europe, there's a significant shortage of the basic materials, as reported by the BBC and other outlets.
Our screens are made in Germany, and they were added to our portfolio because they're free standing , as well as suitable for routine cleaning with disinfectants. This means they will stay bright and clear, which is more conducive to a positive working environment.
With a choice of specialty plastic or safety-approved glass, as well as a range of sizes, it's important to make a prompt decision, since without the correct equipment, you cannot have employees using their regular workstations.
Don't forget to consider situations where there's an engagement between your staff and third parties - such as retail operations. Specify the application and the available space, and we'll advise as to the correct design.
Desk and counter 'sneeze' screens - Download
Body Temperature Measurement Systems
From plastic and glass screens, we turn our attention to the other end of the spectrum. Creating a safer return to work is going to necessitate screening large numbers of staff entering a single building, whether they be staff or customers.
Our thermal body temperature measurement systems are the same as deployed at facilities such as Heathrow Airport. Indeed, some of the earliest adopters have been construction corporations, since they've had large numbers of staff reporting for work, often working at close quarters and risking greater chance of infection due to the strenuous nature of their work.

We did our due diligence as to the ramifications of the GDPR and Data Protection Act (2018), and since the thermo-sensitive cameras merely highlight the fact that an individual walking past the camera has an elevated temperature, they have been deemed to be compliant.
With the capacity to screen thirty people concurrently, such solutions are useful for limited the risk of infection. Retail operators see these as a positive approach to encouraging the public to return to shopping centres, and they're affordable for even single retail operations where there's a sufficient footfall.
Body temperature measurement systems - Download
Making your Office Printers Safe
We've been banging this drum for a few years: staff shouldn't be conducting their printing at the printer! Secure print - meaning in part that you collect your print job from the printer upon entering a pin code or using an RFIID badge is the easiest way to reduce your risk of a data breach.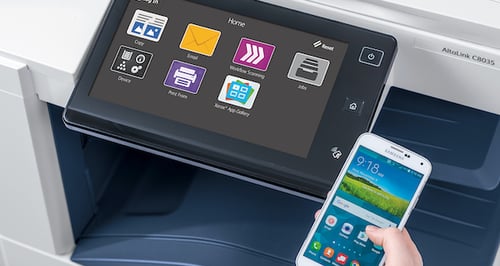 As to COVID-19 / Coronavirus, we see the added advantage of pass-card printing: it eliminates the risk of the printer touch-screen from becoming a vector for the virus.
It's incredibly easy to implement, enhances your organisational cyber security, and is safer for your staff.
Making your printer safer: go contactless - Download
Using the Advanced UK Online Store
Your staff are going to be in more locations than ever before, and your home-based and remote workers need access to supplies and equipment to perform their duties.
Whether it's a question of ensuring they have a suitable seat from which to work while at home (a kitchen chair is surely going to cause back ache), or reams of paper and envelopes, how can you give them access but remain in control of your procurement?
The Advanced UK online store lists more than 50,000 items to keep your office and remote workers equipped, with everything from janitorial supplies to document shredders, printers, and everything in between.
It's healthier to shop online than to try to purchase from a shop, and it's faster and more cost-efficient too. Why not take a look?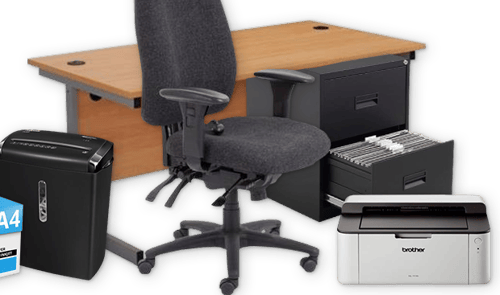 Our 50,000+ items online store for office essentials - Try it here
Next steps for Business Continuity
Auditors, insurers, Boards of Directors and individual management teams are going to demand action so as never to be caught out again. At Advanced UK, we want to reassure you that we understand the complexities, and we have the proven experience to help you through the array of solutions which will deliver robustness.
Call us on 01895 811811 to discuss with our Senior Consultants - free of charge - how we can get your journey started.
Don't go it alone: work with us to explore effective, cost-saving, solutions to the current crisis.
Sincerely,
Joe Gallagher, Sales Director
m. 07765 404042
e. joe.gallagher@advanced-uk.com
⏱ 5 Second Summary
Part of our Business Continuity Series
With 30-years of experience, there's never been a more critical time to take action to protect your organisation: business continuity demands cost reduction, efficiency, process resilience, cyber security and much more. Speak to the experts!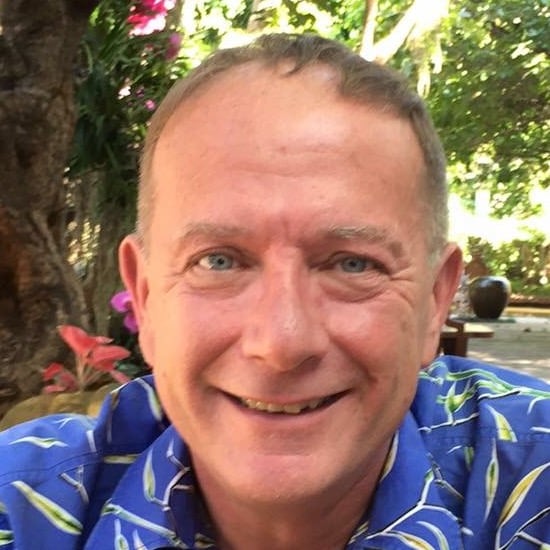 Humperdinck Jackman
Director of Consulting Services
Humperdinck has a 30-year career spanning Document Management Systems (DMS), data protection, Artificial Intelligence, Data Protection and Robotic Process Automation. With many articles published in print internationally, he believes the advances in office technology are such that we're entering the 4th Industrial Revolution. Now Director of Marketing and Consulting Services at Advanced UK, he's as active with clients as he is in endeavouring to write original blog articles.