The Production Print industry is changing. Fast.
After a new study in June claimed that AI will overtake humans by 2060, Elon Musk tweeted that it will probably be "closer to 2030 or 2040." It hasn't helped calm people's nerves to read that Cornell University researchers have claimed that every human job will be automated within 120 years.
In their peer-reviewed paper published by the prestigious Journal of Artificial Intelligence Research, the authors (Katja Grace, John Salvatier, Allan Dafoe, Baobao Zhang, Owain Evans) summarised their work as follows:
'AI will outperform humans in many activities in the next ten years, such as translating languages (by 2024), writing high-school essays (by 2026), driving a truck (by 2027), working in retail (by 2031), writing a bestselling book (by 2049), and working as a surgeon (by 2053). Researchers believe there is a 50% chance of AI outperforming humans in all tasks in 45 years and of automating all human jobs in 120 years.'
Extreme? Very probably. But mass unemployment? Most unlikely. As with the Industrial Revolution, there will be change, but with this change will come opportunities to improve health, animal welfare, the impact of humans upon the environment, and improved standards of living.
Broadly speaking, AI works in four ways:
1. Automated intelligence:
Automation of manual/cognitive and routine/non-routine tasks.
2. Assisted intelligence:
Helping people to perform tasks faster and better.
3. Augmented intelligence:
Helping people to make better decisions.
4. Autonomous intelligence:
Automating decision-making processes without human intervention.
… and none of these reference shiny little robots!
Don't get lost in the hype.
PriceWaterhouseCoopers have made the case in their 2018 AI Predictions report that 2018 marked the year in which artificial intelligence (AI) came "down to earth [and goes] to work."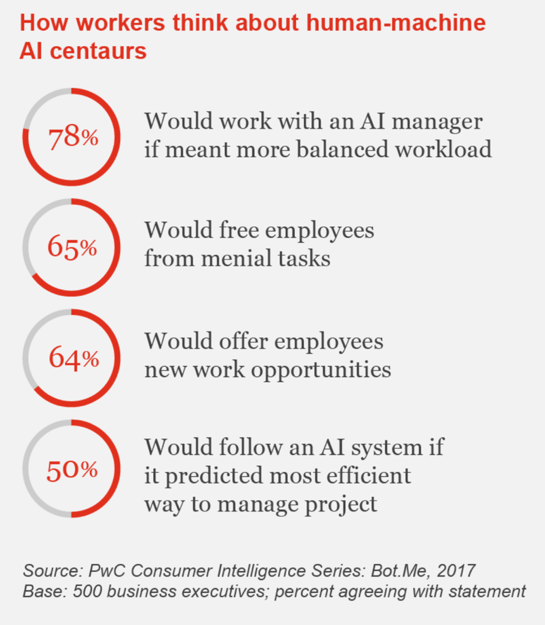 As the infographic above highlights, perhaps the reality is that AI is more accepted that many in the media would credit? The fact is, AI can enhance work, and it's already in widespread use.
Yes, it's already happened. Here are six examples of how artificial intelligence is being utilised by the print industry. Indeed, the Xerox implementation of AI is working in corporate print rooms and commercial printing operations right now.
Smart algorithms in Xerox® FreeFlow® software that determines the optimum layouts for document sent to the presses to ensure minimal printed waste.
Optimising Direct mail and catalogues through data analysis of your customers in order that you may create mailings of increased relevance. Automation makes the process efficient and accurate.
In job submission, Xerox FreeFlow smart software routes new jobs to available presses because it can monitor which presses are busy — and which ones are not.
Self-monitoring presses, like the iGen 5, and the new Xerox Baltoro constantly check themselves with numerous sensors. The data allows algorithms to make real-time, in-process adjustments such as paper alignment and image quality. The result is the best possible printing outcome without human intervention.
Data about the press can be sent back to Xerox for remote diagnostics using AI algorithms to compare real-time to anticipated performance. This use of predictive analytics can forecast the need for maintenance service before the machine fails.
What's next for AI in the production print environment?
The current advances in digital printing are so profound that the traditional lithographic press is almost certain to decrease in importance: printers are faced with shorter print runs, demands for faster turnaround times, and increasing demands for imaginative colours and effects.

Another challenge facing the commercial printer is that the audiences for the printed output must be defined with greater precision: regulations such as the General Data Protection Regulation, and its equivalents developing elsewhere, such as in California, limit how we gather data on prospective customers. The time-bomb waiting to happen boils down to marketing departments having to maximise the return on every piece of collateral.
'... the printer can invoke automatic translation between 44 language pairs ...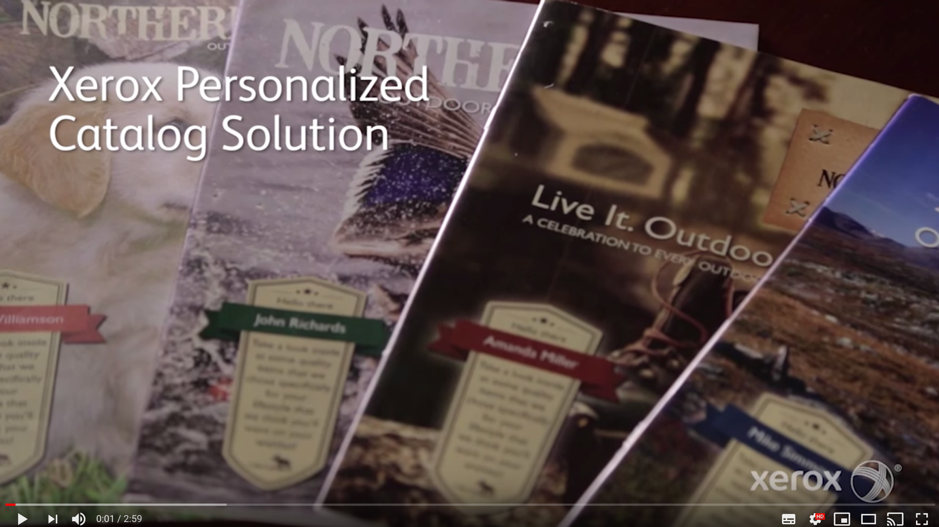 Personalisation is the key to the future of marketing, and the video above conveys just some of what is now possible. Now, the printer can invoke automated translation of collateral between any of 44 language pairs. The artificial intelligence based technology to facilitate this is exemplified by the Xerox ConnectKey ecosystem: a collection of smartphone-like business 'apps' loaded onto the printer – or accessed digitally – which deliver translations of unprecedented accuracy.
More AI techniques are on the way, and it's certain that changes will cause some jobs to be lost, just as the newspaper industry rebelled over the transition from creating layouts in hand-set lead type. But let's remember, it wasn't the new printing press technology which caused the demise of the newspaper industry, but rather the demand for access to news via the internet.
There's more in our Artificial Intelligence series - have you read:
⏱ 5 Second Summary
Explore the uses of Artificial Intelligence (AI) in the production print environment, taking examples of the Xerox Baltoro, Iridesse and FreeFlow technologies and exploring the benefits.
Want more on Production Print and Printing?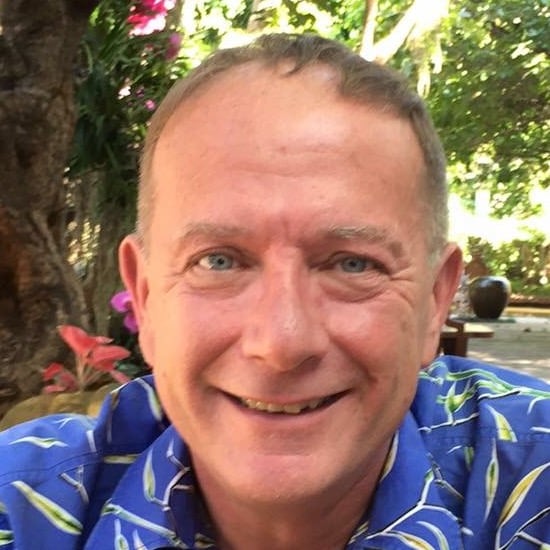 Humperdinck Jackman
Director of Consulting Services
Humperdinck has a 30-year career spanning Document Management Systems (DMS), data protection, Artificial Intelligence, Data Protection and Robotic Process Automation. With many articles published in print internationally, he believes the advances in office technology are such that we're entering the 4th Industrial Revolution. Now Director of Marketing and Consulting Services at Advanced UK, he's as active with clients as he is in endeavouring to write original blog articles.