Pandemic Technology Breakthrough
Manual cleaning is hopelessly inefficient, and the cost is crippling businesses and public facilities. Only electrostatic spraying offers 360o wrap-around technology to deliver effective contamination control on every surface, delivering 99.999% destruction of viruses and bacteria.
With our 30-years' experience in delivering total office technology solutions, our extreme focus on business continuity planning enabled us to be ready for the pandemic. Throughout the chaos we researched and invested, in order that we can now offer our clients the very best technology to create safe work and public spaces with the proven technology we use ourselves.
Understanding Electrostatic Spray Technology
This technology creates a static charge in the aerosol spray particles, which causes the droplets to cling and dry upon almost any surface. When coupled with a proven antibacterial and antiviral sanitisation solution, you are assured of continual protection for up to 28 days.
At coverage speeds of up to 500m2 of floor area per hour, it's the only EFFECTIVE sanitisation approach for large facilities, such as schools, factories, airports, multi-floor offices etc.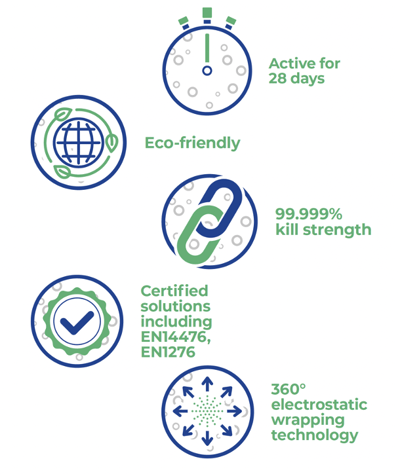 The Electrostatic Advantage
With no need to touch or wipe the surfaces, the electrostatic spray approach reaches around objects, going under and behind surfaces which might harbour pathogens.
Unlike fogging systems, the operative is in the room throughout to ensure total coverage, and the room is safe for use in as little as 20 minutes, vs. waiting 4 hours or more with fogging solutions.
Importantly, our specialty anti-viral and anti-microbial solution is alcohol free and chlorine free, it's non-toxic and it's a non-irritant together with being safe for use around food.
By avoiding alcohol, you show respect for the religious sensitivities of your staff and patrons, and everyone can be assured that it's fully certified by CE, REACH, OSHA, and COSHH.
The Power to Kill Viruses
The agent delivers an 'instant kill' to more than 100 pathogens including Coronavirus, SARS, Avian Influenza, and C. difficile spores.
Our matching sanitisation solution employs hydroxil free radicals destroy microbes in 5 minutes or less. Extensive testing in accredited laboratories demonstrates a 'LOG 6' reduction in contact times for a range of bacteria, viruses, spores, and mycobacteria.
As a British product, with the certifications to match, it has been proven that the substance is entirely harmless to people, and that it leaves no residue and is odourless too, while delivering long-lasting protection.
While certified internationally to offer 30-day protection against coronavirus, the product awaits UK certification for the duration of protection against this novel virus.
The Advanced UK Advantage
The technology is only as good as the supplier's ability to get stock of the sprayers, the spare parts, and the certified cleaning detergents: and we have ample stock of everything you might require.
Of course, you might wish for us to supply your own cleaning contractor, and that''s easy to arrange, or why not ask us to send our team to your offices on a monthly basis?
Rent, purchase or lease your solution for a total approach to creating a safer workplace for everyone.
Material Safety Data Sheets available upon request.
Ask us about:
Handheld electrostatic sprayers,

PPE Zinc Oxide 28 day anti-viral film

Reusable, re-washable, branded, eco-friendly masks and snoods,

Anti-viral door handles and furniture,

Office sanitisation services

CALL 01895 811 811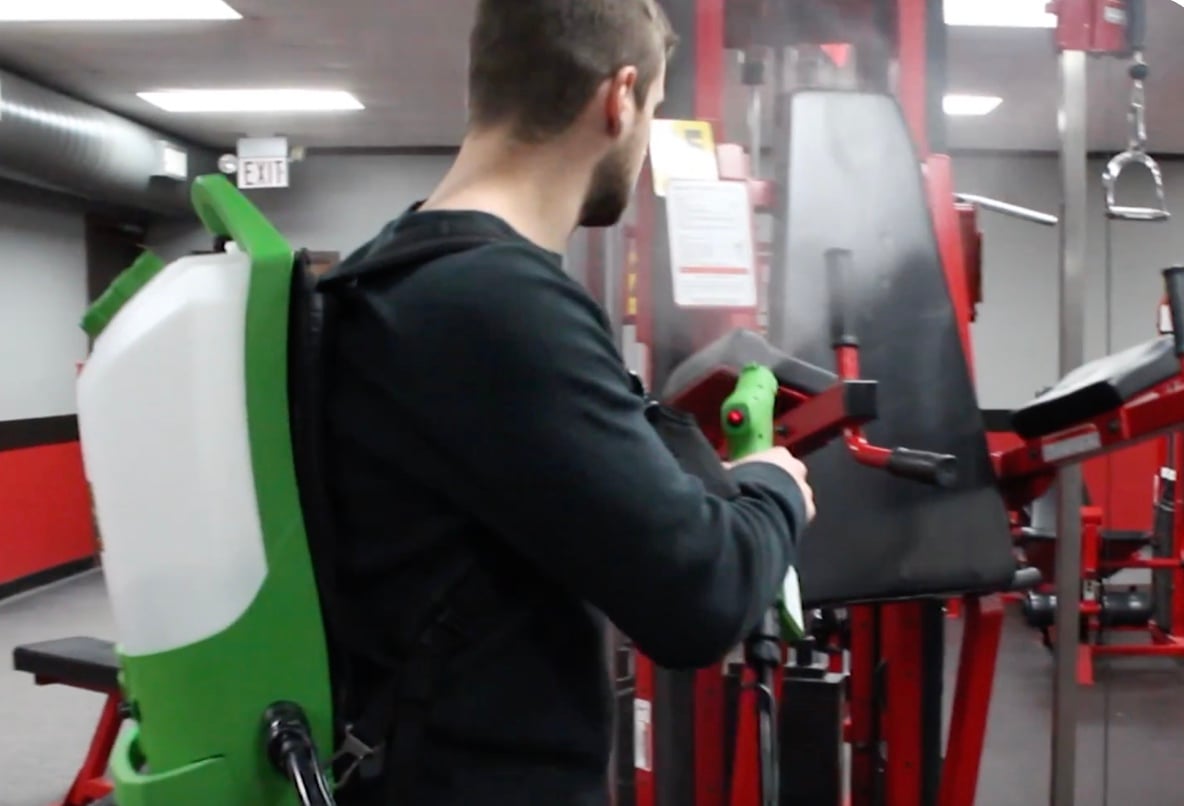 ⏱ 5 Second Summary
COVID-19 Electrostatic Backpack Sprayer delivers 99.999% efficiency vs. viruses, bacteria. Purchase, rent, lease, or use our office cleaning service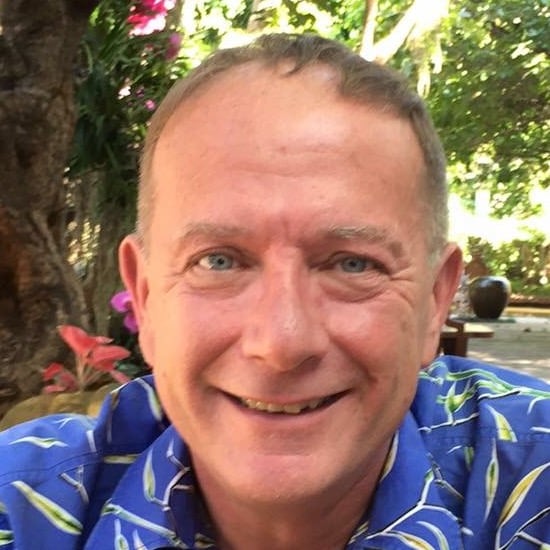 Humperdinck Jackman
Marketing Director
Humperdinck has a 30-year career spanning Document Management Systems (DMS), data protection, Artificial Intelligence, Data Protection and Robotic Process Automation. With many articles published in print internationally, he believes the advances in office technology are such that we're entering the 4th Industrial Revolution. Now Director of Marketing and Consulting Services at Advanced UK, he's as active with clients as he is in endeavouring to write original blog articles.